Description
An antique set of miniature organ pipes! • Over 300 randomised attack chiffs • No two notes are ever the same • Strange, uneven waveforms combine for a lush ensemble sound • Scale noise and harmonic overtones for added flexibility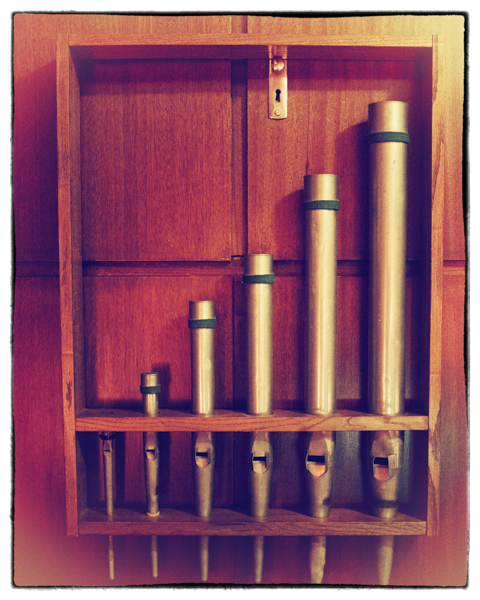 The source instrument for Pipe Machine is a strange little racked set of organ pipes that look like they might have come from some kind of fairground barrel-organ, or perhaps have been used as tuning pipes for something much bigger and grander. They range in size from a little piccolo pipe just 6″ long to a much heftier 2-and-a-half-foot version with a full, rounded tone. Each pipe has a felt-sealed cap that can be shifted up and down to adjust the base frequency by several semitones. They appear to be about a hundred years old, with a German maker's mark and their note names stamped into them. They're very strange, very cool, made of lead, and Mongo has risked poisoning himself to play them all so we could sample them (repeatedly).
The result is an instrument just as small and strange as its inspiration. With only a handful of controls, Pipe Machine isn't intended to be a complex synth or a do-everything sound engine. Instead, it's designed for one thing and one thing only: to produce strange, uneven little peeps and chiffs. Like a haunted fairground at midnight where the calliope plays itself, this thing can be a little on the weird and unsettling end of the spectrum; but it can also be very beautiful if you let it.
To give the airy strangeness a bit of lift and breadth, we've bolted on a few carefully-chosen additions. Overblow adds a distinctive attack chiff to the start of the sound: enabling this give you classic blown pipe sounds, while disabling it allows for smooth-starting, more abstract tones. We sampled over 320 separate overblows and they're fully randomised, which wonks things up nicely. Ensemble ropes in a batch of additional, randomised pipe samples, thickening the sound wonderfully. The Harmonics switch layers in a subtle blend of upper harmonics – fifths and thirds – giving things a slightly Hammond-organy vibe, or just spreading the tone of the sound a little.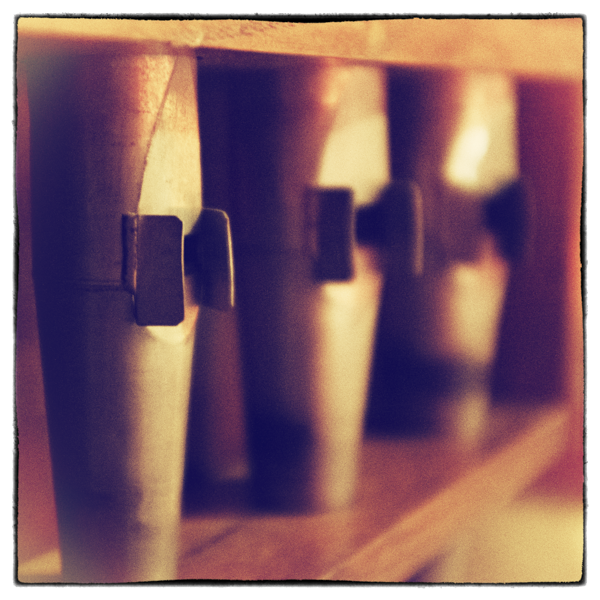 Then we have some tonal tweakage courtesy of a simple Tone knob which controls a Tilt EQ tailored to Pipe Machine's spectrum: you can air things up by turning it to the right, or add warmth by turning it to the left. Next to it is a the Air control, which adds in our absolute go-to Scale Noise from the Korg 770. Finally, we have a basic Attack and Release envelope, to allow for slow builds and long decays. (You can have a bit of fun by dialling in a long Attack and then engaging Overblow – you'll hear the chiff, and then a couple of seconds later, the rest of the sound creeps in by stealth…)
Round the back is the usual complement of effects. Our convolved Lexicon Reverb sounds just gorgeous on Pipe Machine, and a dash of Delay or Chorus can really liven things up too – excellent for getting swirly pad sounds going. Played dry, you can aim for "flute stop"-style church organ tones, or approximations of South American pan-pipes, and lots in between too. To us, Pipe Machine is at its best sounding strange and distant and a bit wonky; and to this end we've left intact a lot of tuning instability, erratic attack portions and so on. By randomising these, we've ensured that no two notes are ever going to sound quite the same – which we think is a good thing.
If your tastes go towards the peculiar (and if you're here, reading this, we're guessing they do) then Pipe Machine could be just the little oddity you're looking for.
(All our Kontakt instruments require a full copy of Native Instruments Kontakt v4.2.3 or higher (including all versions of Kontakt 5). Kontakt Player is not supported: instruments will load, but will time out after 15 minutes. See the FAQ for further information.)