Description
 "Sampled soundbanks don't get much more classic than this." – Computer Music Magazine

"There is old-school digital character on offer here in every one of the 534 instruments… brilliantly retro" – Future Music Magazine

"Rhythmic Robot strike again… it's these sounds that made the 8–bit Emulator II the mid–'80s sampler we lusted after. The hits and chords still sound immense [and] it gets even better with a great selection of strings. Whether you're writing '80s retro tracks or you simply love the sounds of the Emulator II, these collections should prove invaluable." – Sound on Sound Magazine


'I'm a fan of this Rhythmic Robot outfit. Using their instruments is like discovering a lost tribe in the digital jungle… pure, but slightly uncivilized.'
– Stephen Hague, producer (Peter Gabriel, Erasure, Pet Shop Boys, Robbie Williams, Melanie C, New Order, etc.)
Over 500 superb sounds from the biggest, bluest sampler of the 80s, brought to Kontakt with the blessing and collaboration of their original publisher, Doug Morton • Vintage EII companding convertors add punch, weight, grain and texture to the classic 8-bit sound • Every key of every patch sampled across the whole EII keyboard – no interpolation means you get the exact tonality of the Emulator II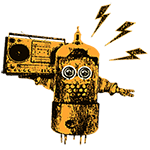 The Emulator II UOS Library is available in two parts: Volume 1 and Volume 2. If you buy Volume 1, you can get Volume 2 half price. See here for details of this awesome offer!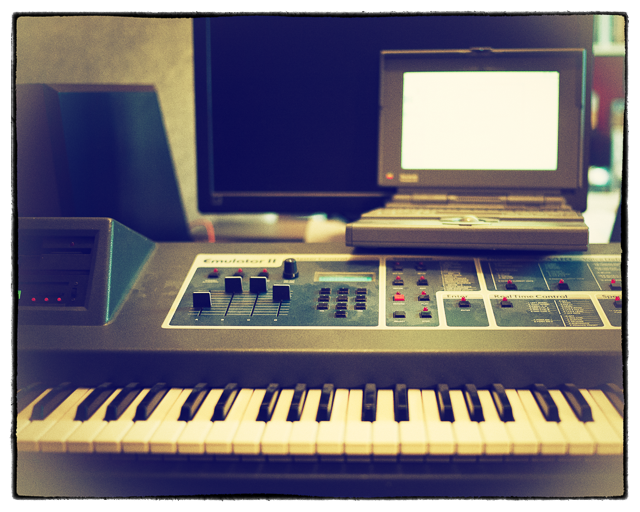 This has been thirty years coming.
Back in the mid-80s, the sampling keyboard that took the synth world by storm was the Emulator II. Far more pervasive in its influence than the Synclavier or the Fairlight, the Emulator II brought 8-bit sampling to a price point that took it into studios and onto hit records at a rate that helped to define the sound of a generation.
There were several secrets to the EII's success, and central to these was the sound. At a time when sample memory was worth its weight in platinum, the EII managed a clever collaboration of 8-bit sample depth (keeping the memory footprint manageable) and very advanced, musical-sounding convertors which companded those 8 bits of data into the equivalent of a 12-bit output. This nifty bit of digital trickery made the EII more responsive and better-sounding than should have been possible given the limitations of the bit depth. Moreover, that combo of 8-bit grain and companding output lent the sound a heft and authority that punched sounds right into the thick of a mix. Although the aim was to emulate 'real' instruments – often acoustic ones – the EII's forté was larger-than-life sounds that sounded simultaneously convincing and massive.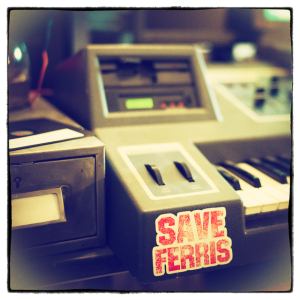 Part of the explanation for this is the fact that the established workflow of the time was to record sounds to tape first, and then into the EII, in order to allow for precise level-setting. This two-stage process stamped the soundset with both analogue punch from the tape saturation and digital weight from the sampling conversion. It's pretty magical, and that alchemy got a further mojo injection when the EII's pure analogue filters came into play. This instrument was a real beast.
'I still own every digital sampling synth E-mu Systems ever manufactured… I'm so excited to use this new EII library on my future projects!'
Frank Serafine, Honey Hills Music & Sound (Sound Designer – Tron, Star Trek, Field of Dreams, Hunt for Red October, Short Circuit, Peter Gabriel etc)
'I use EMUs, Fairlights and a PPG Waveterm System every day, but I am so impressed by the sound and the ease of use of the interface of the Rhythmic Robot version that I haven't turned on the EII in a couple of weeks. I am recommending it to all our composers on EML.'
Nigel Bates (The Electronic Music Library Ltd)
Though the EII shipped with an excellent set of factory sound disks, many of the standout patches that graced the tracks of the time came courtesy of one particular third-party library. That library was the OMI Universe of Sounds – a massive, multi-disk-spanning collection of orchestral stabs, soaring strings, funky basses, thick, punchy drums, classic synths, searing brass solos, chunky keys and loads, loads more. It's this library that we've spent over six months resampling for Kontakt in all its glory – every note of every patch, in meticulous detail, yielding a total of over 31,700 individual samples spanning 21 Gigabytes of uncompressed data. Here are the actual statistics of the library, just for kicks:
31,700 individual samples
33Gb original 24-bit
21Gb uncompressed 16-bit
11.33Gb compressed .ncw format
541 individual instruments, consisting of…
…14 Bass / 18 Bells & Chimes / 52 Brass / 51 Drums / 59 Ethnic & Folk / 8 FX / 36 Guitar / 38 Piano & Keys / 77 Orchestral / 41 Percussion / 61 Strings / 76 Synth / 12 Vocal
If the level of detail we've aimed for here borders firmly on the obsessive-compulsive end of the spectrum, it's because our ambition with the Universe of Sounds library was simple: to produce Kontakt patches that sound and play exactly the same as the original EII patches. That meant a marathon of multisampling, covering every single semitone of every single patch, often at multiple velocity layers to preserve the exact behaviour of the EII's glorious analogue filters. It also meant carefully gain-staging the EII's output and looping the sustained patches so as to preserve their original loop points. Some of these are totally transparent, but others can be pretty audible – adding strange little crackles and twitches to the sound and paying testament to the fact that pushing the boundaries of sampling in the 80s sometimes meant trying to loop the unloopable. We've done nothing to disguise this; all the EII's patches play exactly as they would on the original hardware. What you hear is the sound of the 80s, pure and simple.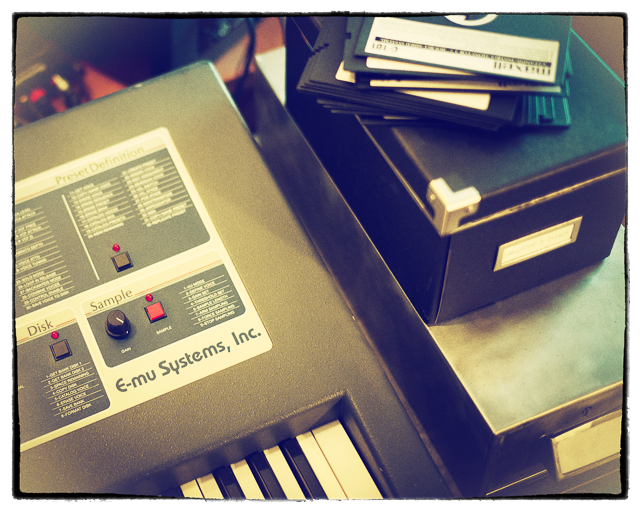 But of course we've gone a little further, too. The Emulator II had an approachable and intuitive front panel which used a healthy scattering of buttons and a bank of 'soft' assignable sliders to control a two-line LCD interface. Our Kontakt interface adds some useful further control: a secondary Filter array; Amp controls with tremolo; a convolved Lexicon reverb straight from the mid-80s to complement the EII's signature sound (the Plates are great for thickening, while the Rooms and Halls let the sound swell and breathe); Chorus, Phaser, Echo and Rotary Speaker effects; specific control over Velocity response for both amplitude and filter cutoff; a stereo Spread knob; and a neat SSA (Skip Sample Attack) button that lops the start off sustained samples, turning them effectively into synth waves for you to use in creating your own patches.
There's also a Vintage button, which works in the same way as the one we pioneered on Lambda. While we've been very restrained with the reverb and other settings – we didn't want to swamp the sounds in effects – there's usually a dab of reverb and some stereo spread on most of the patches. One click of the Vintage button, though, and all the effects, the Lexicon reverb, and the modern filter are disabled; the sound is panned to mono, just like the original; and you're left with the exact sound of the original EII patch, no frills. This is an instant way to transport yourself to 1986. Click it again, and the other settings are reinstated exactly as they were before. Neat 🙂
But why stop there? We've also included some Kontakt Multis that layer and stack EII patches, go to town with the effects, and generally show off what you can do when you forget about vintage authenticity and just run riot with the Universe of Sounds library's treasure-trove of material. The Multis folder is packed with subsonic basses, echoing synths, strange soundscapes and otherworldly presences… and there's nothing to stop you rolling more of your own in a similar vein. This is the sound of the EII with turbo-boost rockets strapped to its disk drives!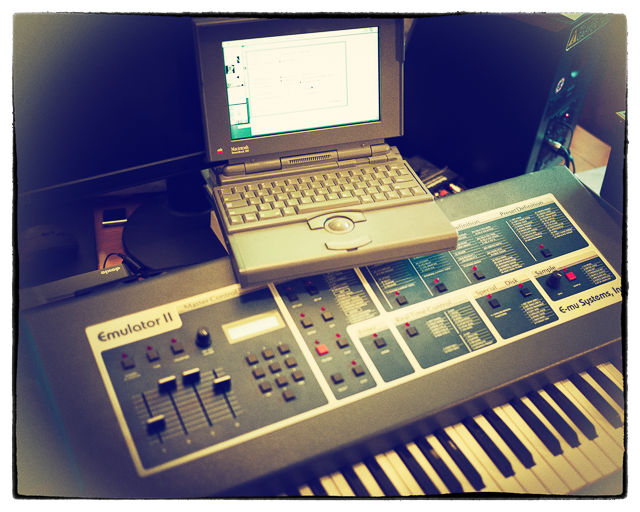 Reproducing OMI's Universe of Sounds for a new generation has been a labour of love that has involved late, late nights, months of sampling and editing, a lovingly-reconditioned EII, a preposterous number of 5.25″ floppy disks, and a ridiculous amount of grinning as we auditioned the patches and got caught up in how good they sound. For anyone who lusted after an Emulator II but couldn't afford one; for anyone who's heard talk of this groundbreaking machine but not heard one in action; for anyone who's watched Ferris Bueller's Day Off and found their gaze drawn not by the Ferrari (or Ferris's girlfriend) but by the EII in his bedroom… this one's for you. Enjoy.
---
Click below to download a full patch list for both volumes of the EII library:
Emulator II UOS full patch list
---
Downloading and installing the Emulator II OMI Universe of Sounds Kontakt library:
This is a big, big set of instruments. As such, we've split it into two parts. Step-by-step instructions on how to deal with them are included in the README file that comes along with the downloads. Please read it – it's very important!
EII Universe of Sounds ships with a factory sound library of over 540 original EII patches, and also a collection of Kontakt Multis most of which were designed by our good friend Ed Ten Eyck. Ed does sound design for other synths too, so take a look at his brilliant patches here.
---