Description
"Another pocket-money Kontakt instrument from Rhythmic Robot, this time sampling a Roland SH-7. All the warmth and richness of the real thing is here, enhanced in fact by the Multi-Osc mode. The randomise button is also a great addition. Retro-tastic!" – Computer Music magazine

"Rhythmic Robot are so committed to preserving the ancient and the crotchety, I'm relying on them opening a nursing home one day."  – Sound on Sound magazine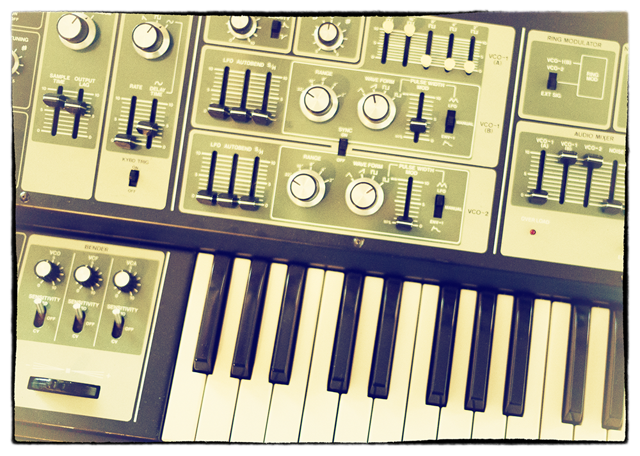 Towards the end of the 1970s, the SH7 was the crowning glory of Roland's massively successful line of SH synths. It featured a duophonic-capable architecture with two fully-fledged oscillators plus a third "organ" oscillator which blended five different frequencies of square wave in with the sound. It had modulation and routing possibilities that put it a close second to a System 100 modular in terms of flexibility. A resonant low-pass filter came coupled with a high-pass, which gave a lot of scope for different textures. And the whole thing was wrapped up in a gorgeous, hands-on design that made creating sounds a delight. All in all, it should have been a world-beating instrument.
Strangely, perhaps, it wasn't. Its filters were its Achilles' heel: in the late 70s, prog-rock gods wanted thick, chewy, Moog-style ladder filters to handle those classic screaming synth widdles. The SH7's filters sounded thin by comparison, and it fell from favour – especially by comparison with its little brother the SH5, which did have screaming chewy filters and was cheaper too. So the SH7 began to look like a bit of a mis-step by Roland, unless complexity and sound-design were your thing.
But time has a way of changing things. As prog-rock faded, a new breed of musician started to discover the SH7 as something of a closet classic. For electronica, experimental music, and the dance and techno brigades, the SH7's unique tone and extensive sound-shaping capabilities made it a perfect monster of a synth, if you could get your hands on one. At last there was some love for the SH7.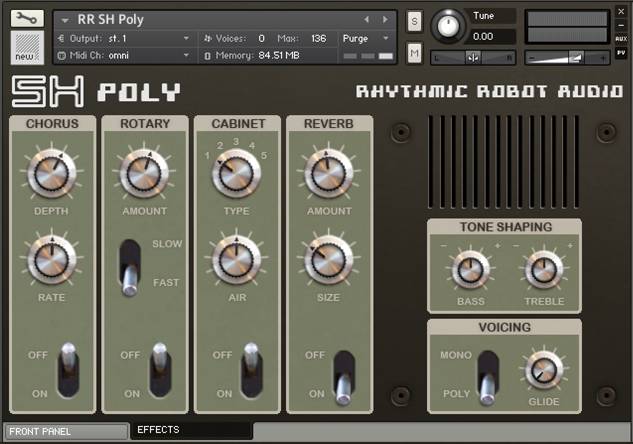 Here at Rhythmic Robot we seriously feel that love. The SH7 is an absolute triumph of a machine: complex, sure, but friendly and rewarding at the same time. It has a voice all of its own, with richness coming from the oscillators rather than the filters, which really serve just to sculpt the sound, rather than define it. Programming it is huge fun. We wanted to create a software version that captured not just those oscillators, but that fun as well… and so the impetus behind SH Poly was born.
SH Poly is, as the name suggests, a polyphonic take on the duophonic SH7, giving you the SH7's guts but letting you play them like a Jupiter. We sampled every oscillator the SH7 has to offer, plus some crafty combinations and variations, so that the base sound palette on offer is extremely broad. Triangle, Square, Pulse and Saw waveforms are joined by Square+, which is built from the "organ" squarewave oscillators, and a "synced saw" wave captured from syncing Osc 1 to Osc 2 on the original. The two oscillator sections can be detuned relative to each other, for instant warmth and richness; but you can also get this by combining, say, Osc 1 Square with Osc 2 Square+, or Osc 1 Saw with Osc 2 Sync Saw, for subtler flavours of depth.
But the Multi-Osc section takes this all a lot further. The flick of a switch adds a further four virtual oscillators to the original two. Flick it again and you get eight additional oscillators, for a massively thick, dense rush of sound. Multi-Osc expands your sonic potential way beyond the original SH7, into lush pads, enormous synth-strings, dense soundscapes, and phasey chorussy analogue heaven.

The original SH7 could be overdriven in its Amp section – there's a neat little "Over Load" LED to show when distortion is happening, and while it's almost certain that Roland saw this as a warning, we have to admit we spend a lot of time making sure it lights up. That Over Load function is recreated here and helps push the SH Poly into grungier, grittier territory when you want it.
Getting at unusual and inspiring tones is of course made a whole lot easier with the inclusion of our neat little Glitch button. One click randomises all the panel settings, but within generally musical parameters (most of the time, at least) so that you get useable results more often than you would with pure randomising. This is a great way to start a musical journey with SH Poly, and if you don't like the results, just click again! Instant new patches, and instant inspiration.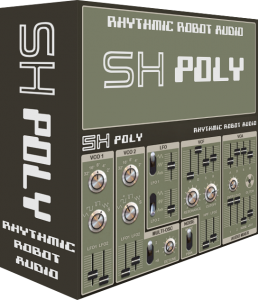 Two LFOs can be routed all over the place: to oscillator pitch, filter cutoff, or amplitude, for some pretty neat modulation options that can really add some movement and depth to your sound.
Round the back are some vintage-inspired effects to round things out: a kind of classic synth pedalboard of Chorus, Rotary speaker, Amp Cab simulator and Reverb section, plus a handy dual-band EQ tuned to the SH7's tone and a Voicing panel with portamento / glide, to let you go back to your mono roots.
SH Poly takes the fantastic warm, breathing oscillators of the SH7 and brings them to you in polyphonic form. It's easy to use, but deep enough to get you to all kinds of musical territories. For a taste of Roland's top-of-the-line analogue sound from 35 years ago, look no further!
---
(All our Kontakt instruments require a full copy of Native Instruments Kontakt v4.2.3 or higher (including all versions of Kontakt 5). Kontakt Player is not supported: instruments will load, but will time out after 15 minutes. See the FAQ for further information.) You can read more about the original hardware Roland SH7 here.