Description
 "Sampled soundbanks don't get much more classic than this." –Computer Music Magazine

"There is old-school digital character on offer here in every one of the 534 instruments… brilliantly retro" – Future Music Magazine

"Rhythmic Robot strike again… it's these sounds that made the 8–bit Emulator II the mid–'80s sampler we lusted after. The hits and chords still sound immense [and] it gets even better with a great selection of strings. Whether you're writing '80s retro tracks or you simply love the sounds of the Emulator II, these collections should prove invaluable." – Sound on Sound Magazine


'I'm a fan of this Rhythmic Robot outfit. Using their instruments is like discovering a lost tribe in the digital jungle… pure, but slightly uncivilized.'
– Stephen Hague, producer (Peter Gabriel, Erasure, Pet Shop Boys, Robbie Williams, Melanie C, New Order, etc.)
ANOTHER 500+ superb sounds from the biggest, bluest sampler of the 80s, brought to Kontakt with the blessing and collaboration of their original publisher, Doug Morton • Vintage EII companding convertors add punch, weight, grain and texture to the classic 8-bit sound • Every key of every patch sampled across the whole EII keyboard – no interpolation means you get the exact tonality of the Emulator II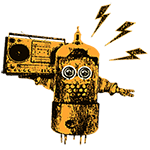 The Emulator II UOS Library is available in two parts: Volume 1 and Volume 2. If you buy Volume 1, you can get Volume 2 half price. See here for details of this awesome offer!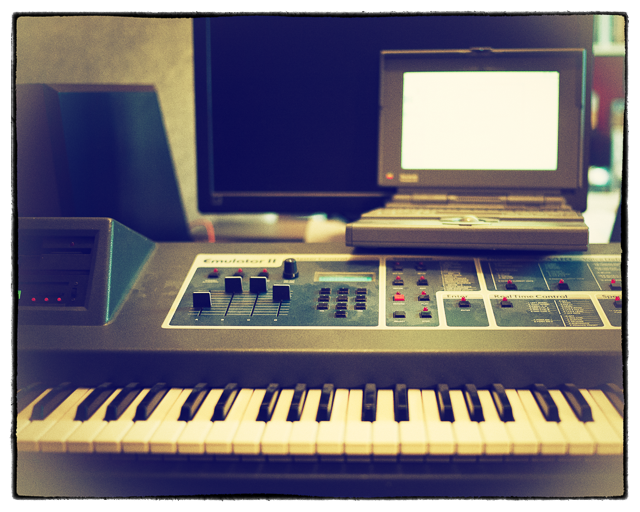 Volume 2 of the Emulator II OMI Universe of Sounds library follows on from Volume 1, adding well over 500 further instruments and expanding the sound palette of the first library hugely.
The emphasis this time is a little different from before, with a wide range of classic analogue and digital synths represented, while brass, string and orchestral sounds are characterised by smaller selections but greater fidelity, rather than the sheer breadth of sounds covered in Volume 1.
The standout patches (to our ears at least) come in the form of synths, keys and solo instruments, while there are some neat left-field choices as well (like Mellotron strings). The synths delve deep into analogue classics, but also take in the then-modern crop of mid-80s digital machines, so you get both DX-style glitter and D50-style movement along with more typical subtractive fare. This expanse of rich synth tones makes layering the patches very rewarding: blending together an orchestral patch with a synth patch nearly always leads to something special happening. A quick tweak of the envelope attack to join the two together and the results are magical – tons of 8-bit grit from the EII, tons of warmth and depth from the sources themselves. This is something we've taken advantage of to great effect in the Multis, which cherry-pick some cool starting tones and then go to town on them with everything the interface has to offer. We hope you'll have a go, too!
Ethnic instruments also get a good showing, with a wide variety of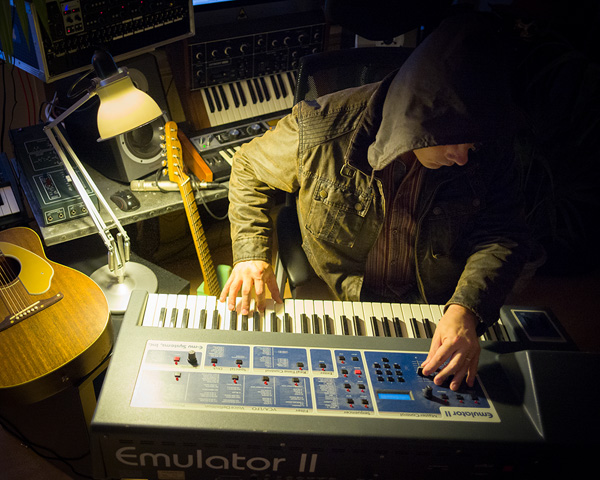 folk patches (including some great harmonicas) as well as indigenous instruments from around the globe – perfect for those Peter Gabriel moments! And to underpin your tracks there are some truly weighty basses, both electric and synthesised, ready to make your speakers shudder. There's something incredibly punchy and rock-solid about the EII's bass response which makes these kinds of patches a joy to play.
As always, we've gone the extra mile with the sampling itself, and as well as sampling each patch chromatically and in obsessive detail, we've also taken care to multi-sample anything that draws on the EII's filters, so you can be sure of getting the same velocity response on our patches as you would on the original hardware. Hit harder, and on the patches that support it, the filter opens up just like the real thing!
"Volume 2 is slightly smaller [than Volume 1] but still contains over 530 patches in the same categories. It fills in some of the gaps of the first, contributing improved piano sounds, gamelans, a generous dose of African percussion and yet more metal bashing. But for me its best entries are the eerie solo strings, wood flutes, a whole host of other strings (including Mellotron) and a superior selection of vocal samples. Were I forced to choose just a single volume, this one's strings and choirs would probably give it the edge." – Sound on Sound magazine review
The icing on the cake is the convolved Lexicon reverb, offering three plates, three rooms and three halls to choose from; period-correct reverb really helps to seat the sounds in a space of their own. Our personal favourites are Plate 3 and Room 2; though of course if you'd rather go dry, you can just hit the 'Vintage' button and all effects and modern tweaks will be disabled.
Recreating the Emulator II OMI Universe of Sounds for Kontakt has been a real labour of love; here, with Volume 2, we bring you the fruits of six months of painstaking sampling, looping, tuning and editing. We think it's well worth the wait, and we hope you do too!
Here are the actual statistics of the library, just for kicks:
37,238 individual samples
25Gb original 24-bit
16Gb uncompressed 16-bit
8.83Gb compressed .ncw format
534 individual instruments, consisting of…
…21 Bass / 4 Bells & Chimes / 39 Brass / 48 Drums / 46 Ethnic & Folk / 3 FX / 22 Guitar / 47 Piano & Keys / 45 Orchestral / 73 Percussion / 25 Strings / 139 Synth / 22 Vocal
Downloading and installing the Emulator II OMI Universe of Sounds soundset:
This is a big, big set of instruments. As such, we've partitioned the download into 8 1Gb files, so when you receive your download link email, it will include links to eight separate .zip files. If your internet connection is on the slow side, you'll get better performance if you download these one at a time rather than setting them all going at once.
When you've downloaded all the parts, Mac users will need a copy of Stuffit Expander and Windows users will need a copy of 7-Zip, both of which are free to download – just follow the links.
Launch your decompression utility. Mac users can drag the first .zip file only onto Stuffit's window. Windows users should select the first .zip file only using 7-Zip, and click Extract. The utility will (slowly!) decompress all eight files into one consolidated folder containing the instruments and samples. NB Simply double-clicking the file will not work; follow the procedure above. Decompression will take a long time and it may look like the utility has stalled; but don't panic, there's a lot for it to do (and in the case of Stuffit, the little progress bar shows progress for only the first file of the eight, so the time it takes to complete the whole process will be about eight times longer than the progress bar suggests.) Perhaps make a warming beverage while it gets to it 😉
EII Universe of Sounds ships with a factory sound library of over 540 original EII patches, and also a collection of Kontakt Multis most of which were designed by our good friend Ed Ten Eyck. Ed does sound design for other synths too, so take a look at his brilliant patches here.
---