Description
African roots vibe with electric piano growl – an EP with a difference! • Adjustable thumb noises for both attack and release – move from subtle key-clicks to full-on percussive effects • Multiple round-robins for an organic feel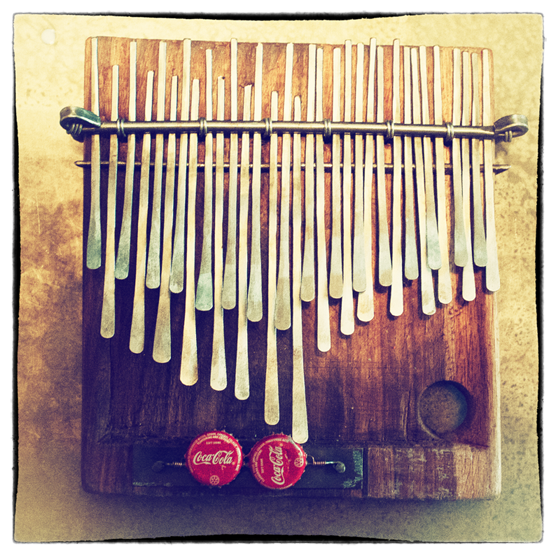 Elektrik Kalimba is a funky fusion of African and American, designed to sound like the kind of electric piano a Zulu teenager might hotrod up when he'd had enough of tribal rain dances and wanted to get his groove on. It started life as a 3-octave electric kalimba – or mbira, or karimba, or marimba; basically, an African folk thumb piano. Our kalimba was electric from the start, in that it was fitted with a pickup for amplification; but really, it was that row of thumb-plucked tines that set us thinking. Tines; electric pickups; this thing wants to be a Rhodes, right?
So we set about sampling the whole range of the kalimba, tuning it first to Western tuning, and capturing both proper key tones and a wide variety of buzzes, clicks, thumps, and scrapes as well. Our kalimba is fitted with two coke bottle caps which buzz and rattle along with the keys: this is an important part of the sound of the kalimba when it's used in African folk music, since the buzzing is supposed to entrance nearby spirits. (In which case they must be absolutely delighted with the mains hum in Mongo's cupboard…)
We then grafted the kalimba's attack to the sustain of a conventional American electric piano, sonically welding the two instruments together into a new hybrid – a kind of Roots Rhodes. We put in extra controls to add even more gritty click to the attack, and optional key-release noises; we gave it overdrive in the traditional EP mould; and we wrapped the whole thing in a tolex kaftan. The result is Elektrik Kalimba: not exactly an EP, not exactly a folk instrument. It's the kind of keyboard sound that can give a track a subtle touch of organic individualism, or a full-on whack of chunky funky attitude, depending on where you set the dials. At one end of its spectrum it sounds like a rattly, last-legs kind of Rhodes, full of mellow dust and dying electrics; at the other, it can go almost into steel drum territory. In between there are handfuls of unique, unusual keyboard sounds that can fuse the background of a track together or take centre stage. All with a rootsy African influence that just sounds different.
Elektrik Kalimba: Rock the casbah!
---
(All our Kontakt instruments require a full copy of Native Instruments Kontakt v4.2.3 or higher (including all versions of Kontakt 5). Kontakt Player is not supported: instruments will load, but will time out after 15 minutes. See the FAQ for further information.)