Description
Gnarly little analogue drum machine • 12 combinable preset rhythms • Individual kit pieces with full level, velocity and pan controls • Alternative soundset recorded through Aurora Stinger for class A saturation • Thick, warm transistor tone • Play with the presets or create your own beats!
---
Combining a very classy real-wo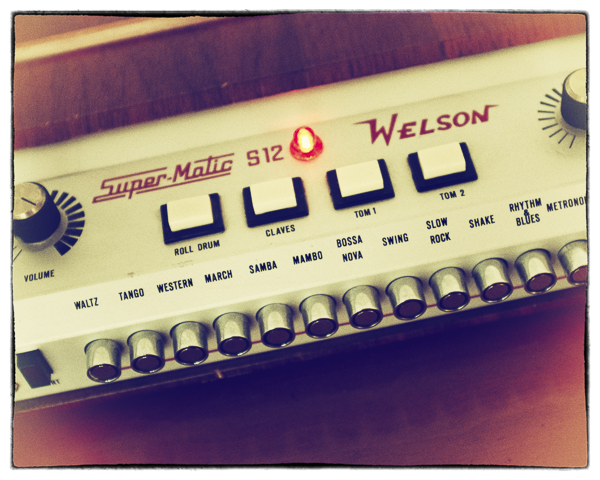 od veneer with a brushed-aluminium front panel and chrome trimmings, the Welson SuperMatic S12 is a natty little character. Packed inside that dapper 1970s-vintage exterior, though, are some pretty cool beats, including a very nice Slow Rock, a cool Rhythm & Blues, and the awesomely-named Shake. (We also like Western, which sounds exactly as you'd hope it would.) What's more, there's even some hands-on control in the form of four little white buttons. Two of these trigger the two onboard Tom sounds (we've interpolated a third one for you), one gives you Claves, and one produces a snare drum roll for as long as you hold it down. (And the winner is……..). And of course, if you want to roll your own rhythms, you can: we've included all the kit pieces on their own MIDI keys, with level and pan controls throughout, and lots of randomised round robins to preserve all that analogue goodness.
In creating the Kontakt version of the SuperMatic, we took advantage of the chance to run its sound through our studio Aurora Stinger, in order to create two sample sets: you can switch between the two from the front panel. The original raw sound is softer and rounder, whereas the saturated Stinger version is edgier and grittier: see which you prefer. And of course you can tailor either, using the onboard effects controls – Saturation and Drive to rough things up, Compression to glue it all together, and a Bitcrusher just in case you want to take your 2019 recreation of a 1970s machine and make it sound like it's coming out of a 1980s sampler 😀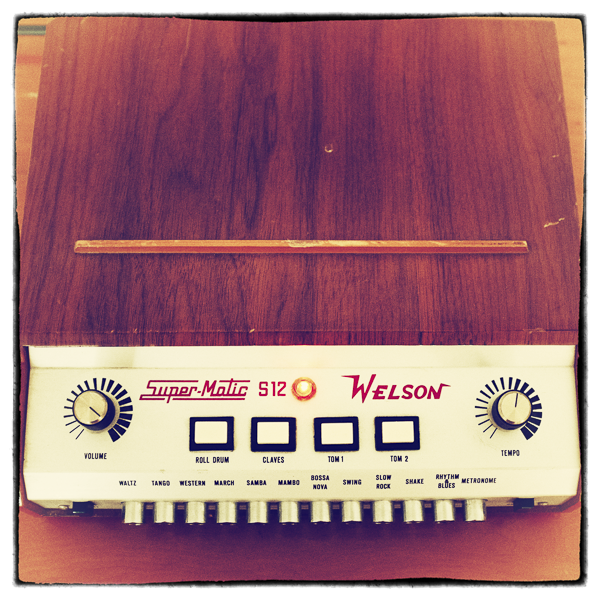 The sound of the SuperMatic is thick and dense and we particularly rate the subby tone of the kick drum – absolutely great for holding down the bass end of a beat, and it responds very well indeed to a dab of EQ in your DAW. In fact, the whole SuperMatic turned out to be more versatile than we were expecting, taking us deep into JJ Cale territory one moment and then doing a pretty impressive version of the Amen Break the next. Combining the onboard rhythms also leads to some really nice results, particularly when you take something plain and simple like the Slow Rock beat and then graft something more exotic, perhaps in a 6/8 signature, on top of it. (You can hear this trick at work in the pattern demo.)
From its zippy front panel fonts to its handy fill-in buttons to its quirky pattern selection, the SuperMatic really makes us smile. Give it a spin and see for yourself 🙂
---
(All our Kontakt instruments require a full copy of Native Instruments Kontakt v4.2.3 or higher (including all versions of Kontakt 5). Kontakt Player is not supported: instruments will load, but will time out after 15 minutes. See the FAQ for further information.)