Description
Ten preset rhythms plus individual kit pieces so you can program your own • Light, snappy vintage tone perfect for complex and agile rhythms • Tilt EQ for easy added punch or air • Combine rhythms for wackadoodle weirdness!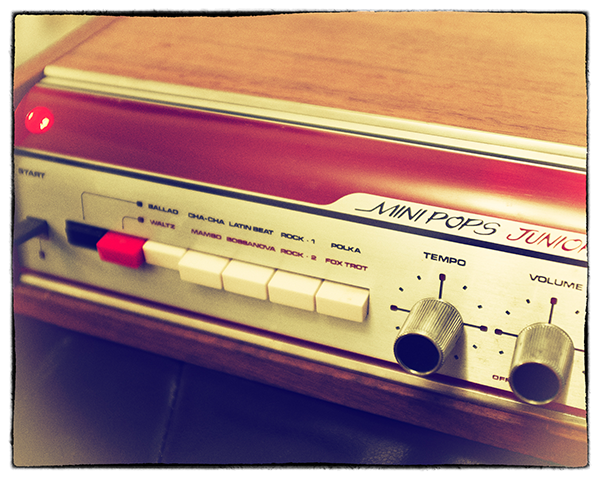 The Korg MiniPops Junior is a smart-looking little analogue drum box that kind of gives off the vibe of a 1950s Buick – all smooth lines, chrome trim and candy-apple red paint. To our eyes, it's one of the best looking drum machines out there: it's even got a cool rolled top! Onboard are ten preset rhythms that summon up the charms of a bygone era, played on a kit that comprises kick, snare, hats and a woodblock. Functionally it's simple, and sonically it's rather tasty, with a sprightly tone that seems to work particularly well on busier patterns.
Our recreation allows you to combine the presets for funky oddball combos, or to play the kit pieces yourself so you can break free from the front-panel patterns. Better still, there's a powerful Tilt EQ capable of injecting some grunt into the kick drum if you turn it left, or making things even more light and snappy if you turn it right. Push the results through the onboard compressor and dial up some vintage Lexicon reverb, and you've got yourself a party 🙂
MiniDrums Junior is ideal for synthpop, electronica and all manner of alt-funky goodness: the original hardware found its way onto tracks by, among others, Roxy Music, AIR, and The Buggles (which frankly is endorsement enough for us). When you fancy a lighter, more refreshing chilled beverage drum machine, this is the one to reach for.
---
(All our Kontakt instruments require a full copy of Native Instruments Kontakt v4.2.3 or higher (including all versions of Kontakt 5). Kontakt Player is not supported: instruments will load, but will time out after 15 minutes. See the FAQ for further information.)