Description
"E-MU's crunchy 8-bit classic… the bit-reduction, Saturation, Drive and Pump controls make it sound even phatter and dirtier than it is out of the box, and at this price this is a must for any lover of vintage drum sounds" – Computer Music magazine

12 original kit pieces plus 3 further custom EPROM kits • 48 kit pieces in all • Original, Fairlight, Electro and Custom sound banks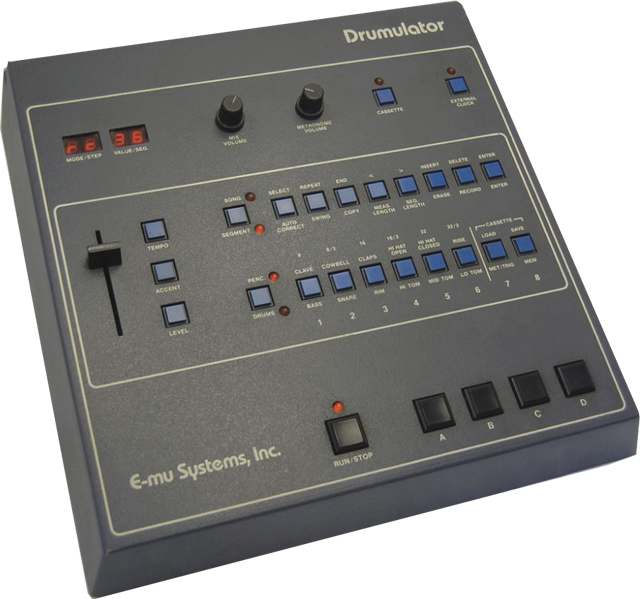 The Drumulator was pretty much an instant hit for E-mu. It aimed squarely at the territory of the Linn drum, but was far more affordable. Real-time sequencing was coupled with onboard samples in wonderfully dense, gritty 8-bit quality (though with cool 12-bit-companded outputs), and the samples themselves were the crowning glory: twelve great-sounding kit pieces which defined the sound of countless hits. Hell, you could even chain the thing up to an Apple II for visual editing and sequence programming, which made it feel a bit like a Fairlight. It was a technological marvel of its time.
Housed in a sturdy great wedge of powder-coated steel, the Drumulator came with no MIDI and no way of expanding its onboard sounds. Luckily, though, the EPROMS housing its samples are fairly readily accessible, and with a bit of effort, a screwdriver, and some replacement chips, you can upgrade your Drumulator to embrace lots of sounds that weren't ever part of its factory spec. Pumped out through those classic D-to-A converters, these can sound fantastic.
Our Drumulator came unexpanded, and we first sampled it in that form, so the onboard kit is preserved perfectly. Then we got busy with the screwdriver and installed three aftermarket EPROM expansions to get some extra tones out of the thing. The result is a great selection of tight, powerful drum sounds that can really drive a pulse through a mix. Naturally we've also included some processing to pull things together – a touch of Saturation and a twist of the Pump knob and the Drumulator Plus really comes alive! This is a perfect way to get the early-80s high-end sound into your tracks.
The extra banks cover a batch of custom kicks, an electro kit with a very 80s vibe, and a full kit 'borrowed' (i.e. nicked) from the Fairlight itself. The best thing about these kits is that they have that classic early digital sound, but aren't clichés – they feel of their time but not tired. We were very impressed!
Playing around with the Drumulator is tremendous fun – those cool blue buttons and red LEDs, a nice easy-to-use realtime sequencer, and that great pumping wall of sound… this is a seriously powerful machine. Our version lets you slot that power straight into your DAW of choice. Time to get funky!
---
(All our Kontakt instruments require a full copy of Native Instruments Kontakt v4.2.3 or higher (including all versions of Kontakt 5). Kontakt Player is not supported: instruments will load, but will time out after 15 minutes. See the FAQ for further information.)