Description
Chunky, powerful 12-bit sampled 80s drums from Kawai • Twin kick and snare combos – one natural, one huge! • Latin percussion including Agogo, Claves, Congas and Timbales • Toms, Shaker and  Tambourine further extend the percussion range • Comprehensive effects including Tilt EQ to tailor the sound

Released towards the end of 1987, the Kawai R50 was – despite its name – rather more than just the little brother to the company's earlier K100. Although the family resemblance comes courtesy of some awesomely phat sampled sounds, all in glorious 12-bit, the big advance that the R50 brought to the table was polyphony. Until this point, almost every sampled drum machine was restricted to single-note polyphony, meaning that cymbal tails and tom decays were cut unceremoniously short the moment a new sound triggered. In an era of very short samples, this might not have been that noticeable; but as sampled drum machines managed to cram longer sounds into their onboard memories, it became not just an issue but one which jeopardised exactly the realism that sampled machines were supposed to provide.
The K50 sorted this in style, with a full 8 notes' worth of polyphony allowing all sorts of fancy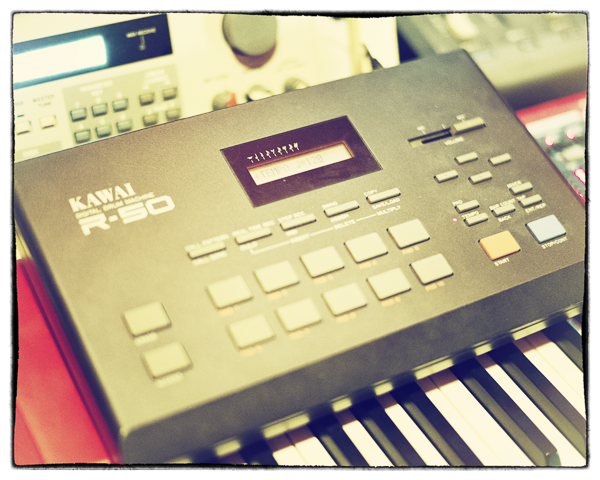 ride cymbal patterns, crash and splash accents, and tom rolls – without any kind of awkward machine-gun stuttering. It also came packed with some seriously tasty sounds: not just two sets of kicks / snares, but a sensible selection of percussion tones as well (nice to see a tambourine in there). Lilting Latin patterns were very much within reach, while the 'standard' kit pieces were strong enough to hold down the main beat. All in all it was an elegant piece of kit: nice to program, excellent-sounding, and versatile. So long as you could live with the fixed sound-set, this was £325 very well spent back in the day.
Our version of course preserves the punchy sounds – which can be quite aggressive if you want them to be! – but also offers individual panning and level control, our super-useful Tilt EQ for gently nudging the tone of the whole machine, and of course some powerful sound-shaping in the form of Bit Depth reduction, Compression, Drive and Saturation knobs. Whether you want gentle La Isla Bonita stylings or epic rawk stadium power-snares, the R50's got you covered.
---
(All our Kontakt instruments require a full copy of Native Instruments Kontakt v4.2.3 or higher (including all versions of Kontakt 5). Kontakt Player is not supported: instruments will load, but will time out after 15 minutes. See the FAQ for further information.) You can read more about the original Kawai R50 drum machine here, or here; and take a look at its big brother, the Kawai R100 drum machine, here.