Description
Yamaha's top-of-the-line mid-80s drum machine • Crunchy, punchy 12-bit samples • 24 original kit pieces – thick acoustic and classic electronic sounds • 24 reversed samples, reversed on the original machine • Individual control over kit piece pan and level, plus effects including saturation and compression

Welcome to the 80s!
In 1986, the RX5 was the jewel in the crown of Yamaha's lineup of digital drum machines. It featured a seriously impressive feature set, comprising 24 onboard sounds spread across two kits – one acoustic, one electronic – plus detailed programmability, sample reverse, expansion via cartridge, and individual outputs for most of the kit pieces.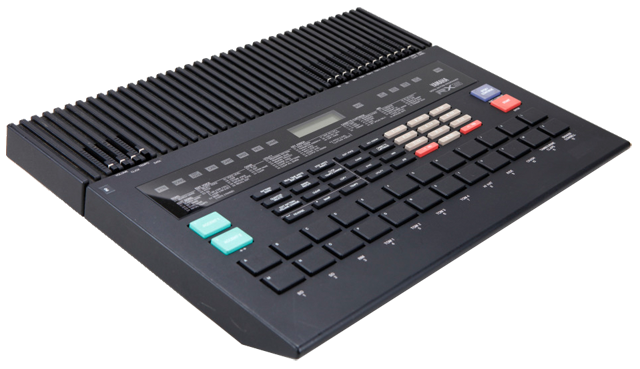 It was a serious, powerful bit of kit with a thick and punchy sound (courtesy of those 12-bit samples) and some nice attention to detail: the sounds could be tailored with basic envelopes, and there were two Accent levels available to allow more humanised programming. The samples were longer and more detailed than on more basic machines of the era  – quality issues that set it apart from units like the Casio RZ1 (with its quarter-second samples). The RX5 made its mark on some classic tracks, like Prince's Sign o the Times, Madonna's La Isla Bonita, Cameo's Word Up and a whole load of songs by the Pet Shop Boys. If the 80s is your thing, the RX5 is a bit of an essential.
In many ways this was Yamaha's defining accompaniment to the DX7 synth, with the same style of D-to-A conversion and a similarly unmistakable 80s tone. While the sounds were samples, they were far from naturalistic, tending more towards the über-punchy 'turn it up to eleven' sound that defined a pop generation.
The RX5 wasn't as user-friendly as Roland's offerings, though; and being a flagship machine, it had a flagship price-tag to match. These considerations have meant that it's become a bit of an undiscovered classic for many people – there aren't all that many of them around, and they're complex to get to grips with. The Rhythmic Robot version solves all that, though, with a nice tidy interface, our usual custom controls for sculpting the sound, and both kits spread out across your MIDI keyboard – plus all the samples in reverse, too. Randomised round-robin samples preserve all the character of the original machine, while hi-hat choke and 'velocity retrofit' make for a really expressive playing experience. (Or you can do the robotic 80s thing if you like!)
The sounds are superb: no duds at all that we can see. From driving kicks to crispy snares, metallic cymbals with just a hint of 12-bit fizz to them through to some of the neatest electro-toms we've heard since – well, since 1986, the RX5 hits the spot. Plus there's a genuinely useful complement of percussion sounds: clap (more of a smack, really), cowbell, a very perky tambourine, and even a shaker, to get the groove moving.
The RX5 is a true flagship machine: a thick powerful sound with tons of punch and bags of character. If you want to inject some Eighties in your tracks, or if you just want to tap into that 12-bit sound, this is for you.
---
(All our Kontakt instruments require a full copy of Native Instruments Kontakt v4.2.3 or higher (including all versions of Kontakt 5). Kontakt Player is not supported: instruments will load, but will time out after 15 minutes. See the FAQ for further information.)