Description
Crunchy, punchy early digital drums from 1986 • Big kick, light snare, and some really neat percussion slotted in too • Sixteen sampled sounds ideal for uptempo electronic music • Interface controls to crank up the sound: the kick loves to be compressed!

When it comes to drum machines, Roland have been in on the action right from the start. With the TR-808, they helped define EDM and hip-hop, while the 909 swiftly became a staple of the techno / house movement. But by 1986, old analogue beatboxes were making way (sometimes by being slung in skips) for the crispy 'realism' of digitally sampled drums. Everyone and their drummer cousin wanted a set of Simmons pads and a brain, and of course Roland were only too happy to provide. Cue the TR-505, a smaller and more plasticky drum machine than its big brothers, but sporting 12-bit sampled sounds that brought a whole new mood to the mix at an attainable price-point – and immediately found itself a niche with the emergent acid scene.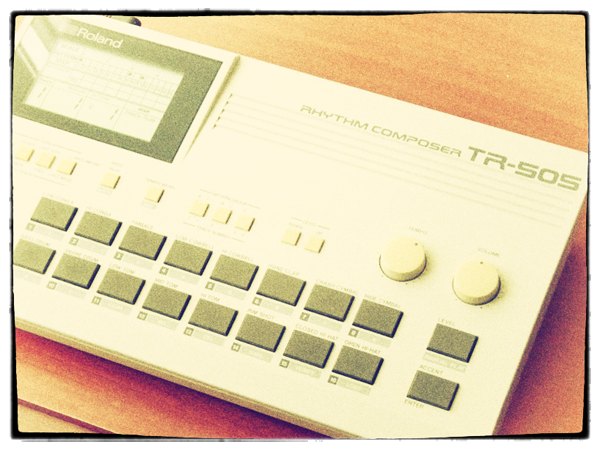 The TR-505 has a thuddy great kick that responds very nicely to compression, a light and crispy snare sound, some really neat percussive elements (including congas, timbales, claves, rim shots and the inevitable cowbell), and of course those fizzy, zingy sampled cymbals that put the old brigade of drum machine in the shade. Factor in tight hats and some very 80s toms and you've got yourself a little powerhouse capable of shunting out big-feel beats on a garage-friendly budget.
While the EDM credentials of the 505 tend to be overshadowed by its meatier, analogue stablemates, there's definitely a place for its more agile snare and percussion sounds, especially when driven from DAW rather than its slightly clunky onboard pattern editor. Hit it with a proper drum loop and it responds really nicely: dial up some attitude with the saturation and compression controls, tweak the frequencies with our handy but powerful Tilt EQ, and you can get some real grunt into the sound. It's great for uptempo or complex patterns, where its punchy little samples – kept deliberately short to conserve precious memory – slot into place neatly without flooding the mix. We reckon the Latin and percussive sounds are great, too, especially now that we've retrofitted them to respond to MIDI velocity – you can get some nice lilting timbale and conga rhythms flowing as a backdrop to your main beats.
While everyone on Planet Earth has at least six dozen 808 kicks in their toolbox by now, far fewer have discovered the hidden gem that is the 505. Join us… join us!
---
(All our Kontakt instruments require a full copy of Native Instruments Kontakt v4.2.3 or higher (including all versions of Kontakt 5). Kontakt Player is not supported: instruments will load, but will time out after 15 minutes. See the FAQ for further information.) You can read more about the original TR505 here and here.