Description
Four kits of punchy classic Simmons SDS drum sounds • Multiple randomised round-robin samples preserve the subtle variations of the original • Rock 1, Rock 2, Jazz and Electronic kits • Significantly less fugly than the original 🙂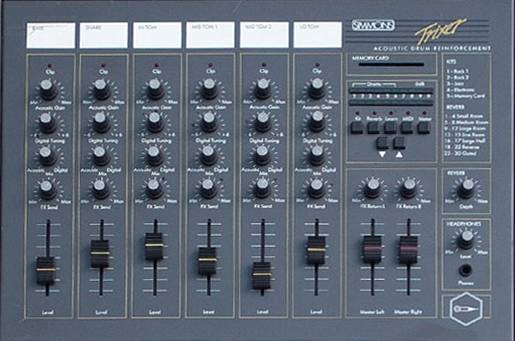 During the 80s, Simmons carved a serious name for themselves as purveyors of top-class electronic drum kits and the 'brains' to run them. The Simmons Sound defined an era of chart hits, and those trademark hexagonal pads became indelibly associated with punchy, dynamic electronic drums that were just that bit more sophisticated and nuanced than a standard beatbox. Suddenly drummers were messing about with cables and boxes of electronics, almost like real people. It was an exciting time…
As time went on and sampled sounds began to kick the chair out from under the Simmons monopoly, the company diversified in some frankly strange directions… and that's where the Trixer comes in. Half mixer, half, erm, box of tricks (?), it coupled four kits' worth of classic Simmons SDS sounds ripped from their top-flight 'brains' with audio sensing and trigger pad options and rolled the whole lot into an audio mixer built like a tank. The idea was that drummers could run their own drum mics through the Trixer, which would trigger its onboard sounds along with the incoming audio. Classic SDS tone could then be blended into the drummer's own kit sound, beefing up whatever they happened to be playing and lending any acoustic kit that Simmons Sound edge.
In practice, the Trixer (and let's just take a moment to reflect on how utterly crap that name really is) failed to set the world alight and save Simmons. In fact, the only thing that makes it worth a second glance is that it does pack four kits of genuine SDS sounds into one box. True, you can't program them or get them out without an audio or trigger input, but then that's what we're here for, right?
Rhythmic Robot's version of Trixer takes all 20 sounds from the original frankenmixer and slots them into your DAW ready to program. All four kits are covered: two Rock kits, a Jazz kit and an Electronic kit (our inevitable favourite here in the lab). Each kit piece was sampled multiple times because the Trixer varies its sound quite widely, and you have control over level, pan and tuning on a per-kit-piece basis. We also discovered one of those useful glitches that tend to crop up in old electronic boxes, which generates a "snare roll" – and which we captured and looped. All in all, there are some really punchy, 80s-style sounds here, which instantly bring to mind countless classic hits of the past. Bill Bruford, Phil Collins, Sigue Sigue Sputnik, Prince, Talk Talk, Van Halen, Spandau Ballet, Culture Club, Ultravox, Pink Floyd… the list of notable Simmons users reads like a who's who of 80s rock and pop legends. This is your chance to put on a headband, rip your jeans up real good, and rock out with the best of the best. More power to your pads!
---
(All our Kontakt instruments require a full copy of Native Instruments Kontakt v4.2.3 or higher (including all versions of Kontakt 5). Kontakt Player is not supported: instruments will load, but will time out after 15 minutes. See the FAQ for further information.)