Description
Thick, warm analogue drum machine with a very yellow paint job • 15 combinable preset rhythms – our favourite is Rock Pop 🙂 • Individual kit pieces with full level, velocity and pan controls • Soft and fuzzy snare and hats • Ideal for chilled, downtempo, laid-back tracks • They call it Mellow Yellow (quite rightly)
---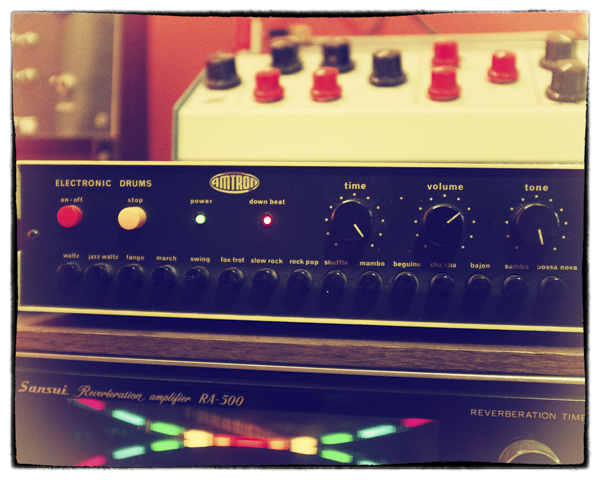 Not all drums have to be huge and powerful: sometimes what your track wants is a warmer, softer vibe with a hint of vintage crackle to it. The Amtron UK263 brings in exactly that cozy goodness. Released in 1978, the Amtron was an Italian drum machine featuring fifteen preset rhythms and some basic tone-shaping. The presets are two-bar patterns, which allows for a bit of extra expressiveness: the second bar often includes a slight tweak or variation to the pattern, which is a nice touch. The sounds meanwhile are thoroughly warm and round, with softly fuzzy noise-based hats, a lovely thick kick drum, some wood-block type percussion pieces, and two versions of a snare sound – one with a longer decay, and one rather tighter. We sampled both of these for the spread of individual kit pieces, plus two versions of the kick (one clickier, the other rounder) and two versions of the blocks (clean, and with built-in hat noise – which is how most of the preset patterns use them).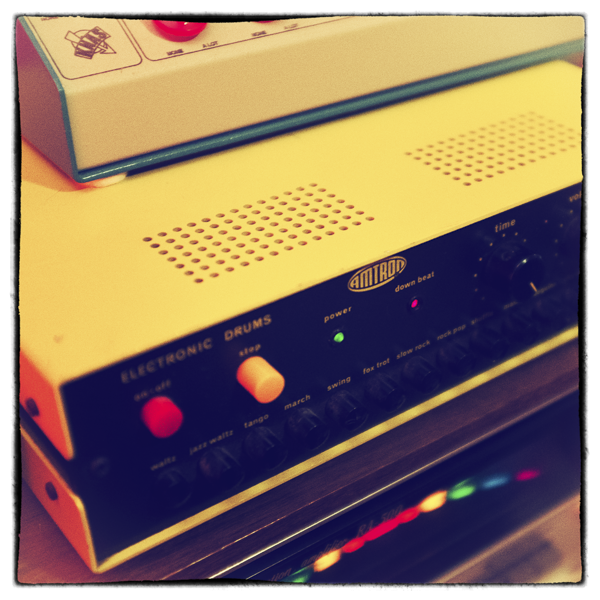 The most striking thing about the original unit is its very chic yellow-and-black colour scheme – very much an Italian styling. (It sits next to our old Roland machines like a Ferrari in a Toyota dealership…) Given its lovely chilled tone and eyepopping paintwork, calling this thing Mellow Yellow was the easiest decision we've taken this year 😀
The fifteen onboard presets are triggered by MIDI note, and corresponding LEDs on the interface light to show you which patten you're playing. Of course, they're all beatsliced and will sync automatically to your DAW's tempo. And there are our usual batch of sound-shaping tools over on the right-hand side of the panel – saturation, drive and bitcrushing if you want to edge the sound into more aggressive territory (and why not?), plus an output stage limiter to pull things gently together or crunch the beat into oblivion – your call!
To our ears, Mellow Yellow is at its best holding down really relaxed, easy-going pulses; but it can also dial up a respectable contemporary beat – it just does so with a real vintage flavour. Take a listen to the Amen Break demo to hear what we mean. All in all, we've got a real soft spot for this little machine… plus, it makes the lab look so much more stylish.
---
(All our Kontakt instruments require a full copy of Native Instruments Kontakt v4.2.3 or higher (including all versions of Kontakt 5). Kontakt Player is not supported: instruments will load, but will time out after 15 minutes. See the FAQ for further information.)