Description
"Rhythmic Robot have sampled every percussion voice at every accent level and have also provided a 'Velocity Retrofit' button, so that you can play with nuances no genuine DR55 could match. The neat and recognisable UI is the perfect setting for this recreation of the oldest Dr Rhythm" – Sound on Sound magazine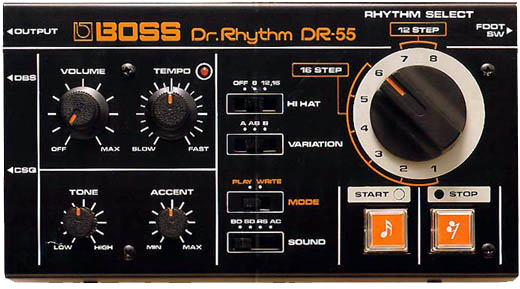 Detailed research conducted down the pub reveals that 100% of people had the Boss DR55 as their first drum machine. While this research may not be entirely reliable, the DR55 was popular for some good reasons: it was cheap, it was tough, and it sounded surprisingly good. Even now, that hard thud of a kick drum can hold its own in a track, and the hats are good, too. The snare is short and punchy, but we've found a way to make it longer if you want it to be. And there's a neat little rimshot sound in there too, quite nicely high-pitched.
The real ace up the DR55's sleeve, though, was its Accent control. You could input Accents in step-time just like another kit piece, and any kit pieces playing at the same time as an Accent would be "punched up" in the pattern by an amount corresponding to the value set with the separate Accent knob. This gave way more variation to patterns programmed on the DR55 than on most of its contemporaries: you could accentuate the backbeat, or go all James Brown and "put it on the One", or have alternating 16ths have different Accents, or whatever you liked. The limitation, of course, was that all kit pieces playing on an Accented beat would be Accented by the same amount, which wasn't as subtle as you might hope. But again, we're ahead of the game here, and have solved that one for you.
Doctor 55 is the Rhythmic Robot take on the DR55. We've sampled every kit piece individually at 24bit, through the entire range of the Accent knob. You can control how much Accent each kit piece gets either from the front-panel knob (individually – set what you want for snares, hats, kick and rimshot); or you can vary the Accent level with velocity using our "Velocity Retrofit". This enables really varied, expressive playing right from your MIDI keyboard (or you can draw in velocity variations in your DAW) – and it can really bring the instrument to life.
We've also found the solution to the Short Snare issue. The inbuilt snare sound of the DR55 is actually quite cool in its character, but it's very short and that limits its usefulness. However, we fiddled around and found a way to get the instrument to glitch out a longer snare. There you go: a second snare sound, sampled alongside the original, with its own Attack and Decay controls hidden on the back panel of the instrument. This gives you access both to the authentic DR55 snare, or your own version of it – perhaps with a longer decay, or a slower attack for a "brushed" sound. Your call! Plus, there's a UFO on the back panel too, because you can never have too many UFOs.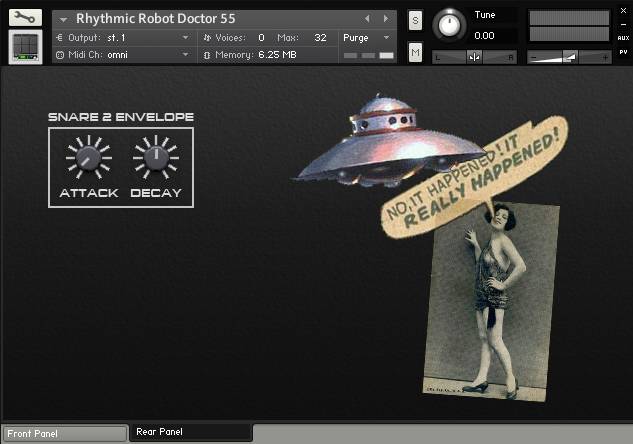 Of course, you also get individual control over kit piece levels and pan positions, and a raft of signal processors to pump up or grunge out your beats: bit crusher, tube saturation, distortion and output compression are all right there for the tweaking. It's great to hear this little beatbox get really snarly with some Drive and Comp dialled in!
Doctor 55 is a great way to add some old-school analogue grit to your tracks, or to get back to your roots. After all, statistics prove that this was your first drum machine, right? Well, even it it wasn't, we reckon you might end up wishing it had been. Doctor 55: the Doctor will see you now…
---
(All our Kontakt instruments require a full copy of Native Instruments Kontakt v4.2.3 or higher (including all versions of Kontakt 5). Kontakt Player is not supported: instruments will load, but will time out after 15 minutes. See the FAQ for further information.)