Description
The smooth groove of the 1950s, courtesy of Wurlitzer • Combinable preset rhythms and a whole set of kit pieces to play with • 'Latin Teen' as a combo… 😀

Let's start with the best bit of all: this is a beat box with a TEEN rhythm! Seriously, you can't get better than that. It's hardly worth going on. Slide some Brylcreem on your comb, pop your leather jacket on, and fire up that motorcycle, bad boy: teen rhythm's gonna getcha!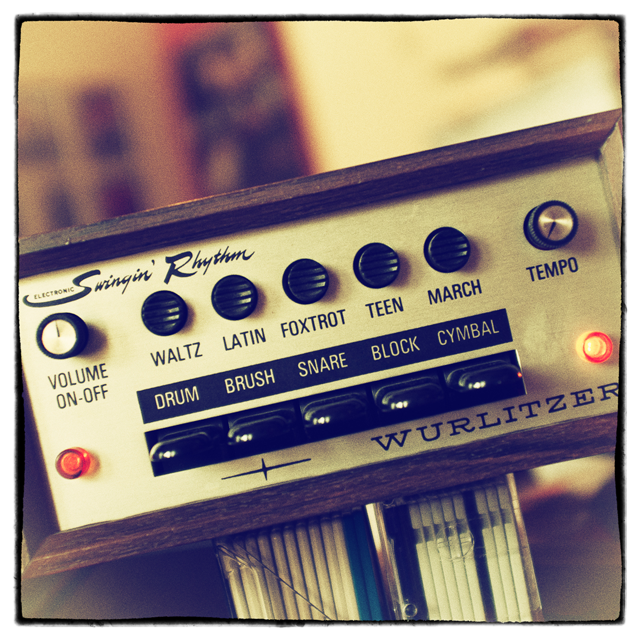 But there's more to the Wurlitzer Electronic Swinging' Rhythm (to give it its full name) than the world's best preset rhythm name. It is, in essence, a Wurlitzer organ add-on, intended to bring preset rhythms to owners of Wurli's well-regarded range of home organs. As such it has five basic rhythms, adjustable for tempo, but – interestingly – also five funny little black tongue-depressor-style switches that trigger the sounds individually. Plenty of preset rhythm machines left this extra level of control out, so it's nice to see them here.
The "Snare" switch also has a trick up its sleeve: when pressed momentarily, it triggers a single snare sound, as you'd expect; but when held, it pumps out a snare roll, bringing back all those marching band practices and first-base snogs under the bleachers which we none of us had because we didn't grow up in the 50s.
We really like the Swingin' Rhythm. Its sounds are round-edged and warm and very laid-back, and quite a contrast to the kinds of drum sounds we've all got used to hearing. These are drums that could sit very well indeed in downtempo, chillout music styles: the kick has just a little bit of crackle to it that sounds almost like vinyl at times, and the block and cymbal sounds are so laid-back as to be practically horizontal. (That's a joke from the 80s, folks. But it's still futuristically funny from the Wurli's 50s standpoint…)
We've kept things very simple with WurliBeat. The original preset rhythms can be engaged either individually or in combination (which can be fun – Latin Teen is a particular favourite around the lab, and not just because it appears so regularly in Mongo's browser history). A compressor can be dialled in to thicken things up a bit: you can hear it on the first demo, but we left it switched off for the second, which is the WurliBeat "raw". There's a convolved IR plate reverb wired in there to give you an authentically dated ambience when you want it, and finally we've given the kit pieces level and pan trim pots on the Real Wood Veneer Cabinet.
We sampled each kit piece multiple times, and these samples are selected randomly so that WurliBeat retains its authentic analogue character.
WurliBeat has a creaky, slightly crackly, varying analogue charm that can add a dose of real vibe to ambient, nu jazz, trip-hop, New Age, ambient house and other laid-back musical styles. It can also add a deliciously retro element to tracks based on more contemporary drum kits.
WurliBeat. Time to take the slow train to chillsville, man.
---
(All our Kontakt instruments require a full copy of Native Instruments Kontakt v4.2.3 or higher (including all versions of Kontakt 5). Kontakt Player is not supported: instruments will load, but will time out after 15 minutes. See the FAQ for further information.)