This is really exciting. The lovely people over at Syntaur have agreed to license us the original Ensoniq Mirage factory soundset in all its 8-bit glory, and we're right now in the process of sampling each and every patch into Kontakt. To do this we're using the same workflow we developed for the Emulator II UOS libraries – which is to say, we're sampling every note of every patch, chromatically, and often at multiple velocity levels as well, all from our much-loved rackmount Mirage. The aim is to capture the exact sound of the Mirage's DACs and filter, so you get exactly the kind of warm crunch for which these machines were famed.

The factory library itself is a work of love. There are 30 disks, each with 3 programmes; each programme contains either one sound spread across the whole keyboard, or 2 or more which are usually split. We've had a good think about how to approach this, and in the end what we're going to do is to break out the individual sounds and put each one into its own Kontakt wrapper. This will allow you to play over the whole range of the keyboard any patches that were originally split, and played across just a couple of octaves. (Obviously this will involve extending the sounds artificially within Kontakt.) If on the other hand you'd prefer to play the split patches as they originally behaved in the Mirage, we're going to include some Kontakt Multis that reinstate the split point: this is called having your cake and eating it! 😀
The patches we've done so far have been a revelation: the Mirage has a teeny-tiny amount of sampling memory, but the factory patches squeeze a truly impressive mileage out of it. They include one of the most biting, cut-through-the-mix piano sounds we've ever heard (completely out-Houses the M1 "House" Piano, for example), some very sweet and soaring string sounds which we can't wait to hear layered up with each other, and some blisteringly punchy drum kits. Plus we're looking forward to getting into the synth and ethnic sounds that grace the later disks.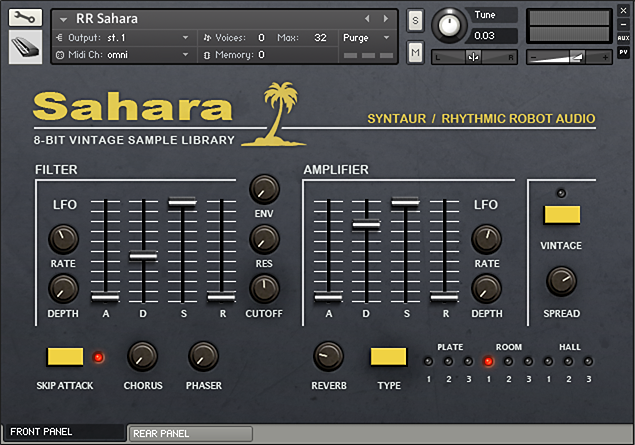 Pricing is tbc, but is likely to be in the same area as the EII libraries, but with a good launch discount to take the edge off. Perhaps now would be a good time to start a swear jar / secret offshore bank account? Because let's face it, you know you want this 😉
We've had so many gremlins and web issues and general disaster over the past few days, we thought it was worth putting up some Good News instead. So here goes:
The website is fixed! Hurrah!
California Keys is half price until the end of May! Hurrah again!
Mongo is certified parasite-free and is back at work! Hurrah!
SH Poly is off the lab bench and into its patch creation phase, so not long to wait there. Double hurrah!
Thank you. That is all.
Hi folks,
We just updated our eCommerce package and, hurrah, it's spawned a whole load of irritating issues. Most of them were 'behind the scenes', and most we've managed now to fix, but there are at least two that are still persistent and which we're relying on the eCommerce tech support guys to cure, since it's their bugs that are causing the issues. They are:
The User Area > My Account page has gone blank and is useless.
The Emulator II Universe of Sounds instruments aren't downloadable, because their download links aren't being sent out properly.
As far as we know, all other instruments and downloads are unaffected – but if you run into an error, just let us know and we'll add it to this log. We hope to get this sorted VERY SOON, but meanwhile our heartfelt apologies if you're trying to get to stuff on the site and failing. More info as soon as we have it.
UPDATE: We're good 🙂 After a long slog of tech support, we think all the bugs are fixed. Shout if you spot anything adrift, but otherwise, what we laughingly call 'service as normal' has now been resumed 😀
Yep, we've finally tracked down the 500 errors that have been plaguing the site, and killed them off. (We sincerely hope.) Thanks for your patience if you've been clicking around and kept hitting blank pages.
Talking of bugs, we once had an actual bug crawl out of a rackmount sampler which had just arrived from America. We're still not sure who was most surprised, us or the stinkbug itself. It went straight back into the floppy disk slot and we had to disassemble the unit to track it down, which was pretty ridiculous.
Oh, and we have a competition planned. More on that soon…!
Some scumbag broke into the lab while we were trick-or-treating (Mongo doesn't need a costume, of course) and nicked our laptop 🙁 Luckily, none of the synths are harmed (though a few are a bit traumatised)… but because this was the laptop we used for running the website and dealing with emails, we're now struggling to make do until a replacement arrives: I'm typing this on the creaking mainframe that's tethered to our audio system, which is a bit daft. Because of all this hassle, we may be slower than usual responding to emails. Apologies in advance.
Oh, and it would be great if Apple could ship us a new MacBook Pro in under "4 – 5 weeks"  :-S
That's it really. Write a review of something you've bought from us and we'll drag your name kicking and screaming out of Mongo's hat on the 1st of November and give you a thing for free. Maybe. Or maybe not. You'll have to wait and see, won't you? 😀
We're broadening our sales strategy! (Gosh, that sounds almost like we know what we're doing or something. Don't be fooled.) Anyhoo, from now on, Rhythmic Robot instruments will be showing up on two other websites besides our own: KontaktHub and KVR.
You may wonder why we're bothering. Basically, it's to reach customers who might otherwise never hear of us, so although we take a bit of a hit in terms of paying commission to the host sites, we (hopefully) end up on the radar of folks who might not stumble on us. This site of course remains the ramshackle, doddering flagship of our interstellar synth fleet; but we're adding a couple of other Battlestars to the group.
KontaktHub are positioned at the shiny and more premium end of the market, and we're likely to release only our larger instruments through them.
KVR are old friends of ours – we won the soundware category of their Developer's Challenge, back in 2014, with NanoMod 7 – and we generally let folks on their forums know when we've released a new machine. So when they announced they were broadening their remit to include a Marketplace, it felt like a natural progression to join that. The KVR community is pretty cool and friendly.
What does this mean to you? Should you buy from us, or from one of these other sites?
Buy from us, is the short answer. It's better for our pockets if we don't have to pay commission, and in return we'll make it better for your pockets with launch offers, Sales, coupons and so on. Neither KontaktHub nor KVR will be offering better Sale prices than we offer, for example – at best, they'll match what we offer – so you can be guaranteed of getting the best deal here, not elsewhere. We're also releasing our instruments here first, and then uploading them to the other sites some while later, so there may be several months' delay before an instrument appears on the other sites. If you want it first, at its launch discount, please continue to shop here 🙂
The only exception is if one of the other sites is doing some kind of way-cool offer – which in fact KVR are at the moment, offering a $79 UVI Grand Piano for free with any purchase. That kind of thing is worth grabbing, so if they do anything neat like that again, we'll be sure to let you know. Otherwise, though, you can cheerfully ignore these other sites and keep browsing round here.
Hope that covers it! And a big "thank you" for buying our stuff, and helping to keep Mongo off the streets. We really appreciate it.
Happy Summer sunshine!
The Professor (and Mongo)
We rather think you might not be able to. Check out the demo at about 4mins for some of the filthiest speaker-shredding viciousness ever to emerge from a bunch of tubes and wires. We utterly love this thing, it's insane…
Soviet Organ patch demo

- Some of the factory presets, showing what you can get out of this mad machine
Expect this to land like a malfunctioning Soviet spy satellite crashing in your back yard sometime in the next few weeks. You may want to stock up on earplugs…
Well, Silencio continues to sell and sell. (Seriously, guys, stop downloading Silencio!) Meanwhile, we've got our next batch of PatchVault instruments on the lab workbench and very nearly ready to ship. These are taken from the Korg PolySix and include both factory soundbanks – one was supplied on tape as an alternate set, but we've managed to get hold of it too 🙂 Should be ready in the next couple of weeks, so watch this space…
In other news – Sound on Sound magazine published a cracking review of our Emulator II soundsets, giving them 4.5 out of 5 stars. Take a look below!
Best wishes, Prof and Mongo
Hi folks,
We want to run something past you to see what you reckon. We now have quite a collection of cool hardware lurking in the lab – everything from a Jupiter 6 through some antique Korg goodies to shiny little DXs begging for attention. And all of them make awesome noises.
Now, most of our instruments are firmly geared to giving you a ton of control. They're basically fully-fledged synths that you can tweak and program and get thoroughly creative with.
But sometimes what you want is a great big warm pad, right now. Or a screaming angry lead, right now. Or a classic digital tines patch, right now. And all those sounds are actually kicking around our lab, waiting to be sampled, except that doing that doesn't quite fit into our usual MO of making fully-featured machines.
So we were wondering what you thought of a series of instruments that are, basically, PRESETS, with just a tiny bit of tweakability.
Here's how it would work. We'd take, say, a way-cool PolySix patch; sample the bejeezus out of it; package that into a little pre-built UI (think something along the lines of the NanoMods, but very simple); and there you go. Your very own PolySix patch. There would be a bit of tonal tweakability built in, but not anything too complex; the idea is, this is the patch, now get playing!
We're thinking also of a very keen price point for these. Pennies, not pounds. Not quite sure how many pennies, but you're not getting a whole synth here; you're getting one patch, so let's put it at a real pocket-change price point.
And then, perhaps, we could do bundles of patches with extra discounts on top. So you could either cherry-pick the specific sounds you want, or, perhaps, get the whole of the factory sounds of a Jupiter 6, at a saving over buying the patches individually.
So – let us know what you think. Like it? Hate it? Features you want to see in it? (Remember, we do want to keep this simple, so we'll be resisting feature-bloat.) Price point to aim for? Let us know, and we'll see what we can put together for ya…!
Best wishes,
The Professor (and Mongo)

EII Vol2 Strings and Brass demo
Some strings and brass to get you goin'! As we've said elsewhere, the Vol 2 selections of both Strings and Brass are smaller in number than those in Vol 1; but they're done to a higher technical quality (for example, you'll notice far fewer audible looping artefacts). They're wonderfully evocative, characterful patches, with both subtle low-key numbers and full-throated roaring blazes 😀
We'll try to get a few more demos up in the next week or so while we're rolling the Multis, and then – on to release, yay 🙂