Yep, we've finally tracked down the 500 errors that have been plaguing the site, and killed them off. (We sincerely hope.) Thanks for your patience if you've been clicking around and kept hitting blank pages.
Talking of bugs, we once had an actual bug crawl out of a rackmount sampler which had just arrived from America. We're still not sure who was most surprised, us or the stinkbug itself. It went straight back into the floppy disk slot and we had to disassemble the unit to track it down, which was pretty ridiculous.
Oh, and we have a competition planned. More on that soon…!
Some scumbag broke into the lab while we were trick-or-treating (Mongo doesn't need a costume, of course) and nicked our laptop 🙁 Luckily, none of the synths are harmed (though a few are a bit traumatised)… but because this was the laptop we used for running the website and dealing with emails, we're now struggling to make do until a replacement arrives: I'm typing this on the creaking mainframe that's tethered to our audio system, which is a bit daft. Because of all this hassle, we may be slower than usual responding to emails. Apologies in advance.
Oh, and it would be great if Apple could ship us a new MacBook Pro in under "4 – 5 weeks"  :-S
That's it really. Write a review of something you've bought from us and we'll drag your name kicking and screaming out of Mongo's hat on the 1st of November and give you a thing for free. Maybe. Or maybe not. You'll have to wait and see, won't you? 😀
We're broadening our sales strategy! (Gosh, that sounds almost like we know what we're doing or something. Don't be fooled.) Anyhoo, from now on, Rhythmic Robot instruments will be showing up on two other websites besides our own: KontaktHub and KVR.
You may wonder why we're bothering. Basically, it's to reach customers who might otherwise never hear of us, so although we take a bit of a hit in terms of paying commission to the host sites, we (hopefully) end up on the radar of folks who might not stumble on us. This site of course remains the ramshackle, doddering flagship of our interstellar synth fleet; but we're adding a couple of other Battlestars to the group.
KontaktHub are positioned at the shiny and more premium end of the market, and we're likely to release only our larger instruments through them.
KVR are old friends of ours – we won the soundware category of their Developer's Challenge, back in 2014, with NanoMod 7 – and we generally let folks on their forums know when we've released a new machine. So when they announced they were broadening their remit to include a Marketplace, it felt like a natural progression to join that. The KVR community is pretty cool and friendly.
What does this mean to you? Should you buy from us, or from one of these other sites?
Buy from us, is the short answer. It's better for our pockets if we don't have to pay commission, and in return we'll make it better for your pockets with launch offers, Sales, coupons and so on. Neither KontaktHub nor KVR will be offering better Sale prices than we offer, for example – at best, they'll match what we offer – so you can be guaranteed of getting the best deal here, not elsewhere. We're also releasing our instruments here first, and then uploading them to the other sites some while later, so there may be several months' delay before an instrument appears on the other sites. If you want it first, at its launch discount, please continue to shop here 🙂
The only exception is if one of the other sites is doing some kind of way-cool offer – which in fact KVR are at the moment, offering a $79 UVI Grand Piano for free with any purchase. That kind of thing is worth grabbing, so if they do anything neat like that again, we'll be sure to let you know. Otherwise, though, you can cheerfully ignore these other sites and keep browsing round here.
Hope that covers it! And a big "thank you" for buying our stuff, and helping to keep Mongo off the streets. We really appreciate it.
Happy Summer sunshine!
The Professor (and Mongo)
We rather think you might not be able to. Check out the demo at about 4mins for some of the filthiest speaker-shredding viciousness ever to emerge from a bunch of tubes and wires. We utterly love this thing, it's insane…
Soviet Organ patch demo

- Some of the factory presets, showing what you can get out of this mad machine
Expect this to land like a malfunctioning Soviet spy satellite crashing in your back yard sometime in the next few weeks. You may want to stock up on earplugs…
Well, Silencio continues to sell and sell. (Seriously, guys, stop downloading Silencio!) Meanwhile, we've got our next batch of PatchVault instruments on the lab workbench and very nearly ready to ship. These are taken from the Korg PolySix and include both factory soundbanks – one was supplied on tape as an alternate set, but we've managed to get hold of it too 🙂 Should be ready in the next couple of weeks, so watch this space…
In other news – Sound on Sound magazine published a cracking review of our Emulator II soundsets, giving them 4.5 out of 5 stars. Take a look below!
Best wishes, Prof and Mongo
Hi folks,
We want to run something past you to see what you reckon. We now have quite a collection of cool hardware lurking in the lab – everything from a Jupiter 6 through some antique Korg goodies to shiny little DXs begging for attention. And all of them make awesome noises.
Now, most of our instruments are firmly geared to giving you a ton of control. They're basically fully-fledged synths that you can tweak and program and get thoroughly creative with.
But sometimes what you want is a great big warm pad, right now. Or a screaming angry lead, right now. Or a classic digital tines patch, right now. And all those sounds are actually kicking around our lab, waiting to be sampled, except that doing that doesn't quite fit into our usual MO of making fully-featured machines.
So we were wondering what you thought of a series of instruments that are, basically, PRESETS, with just a tiny bit of tweakability.
Here's how it would work. We'd take, say, a way-cool PolySix patch; sample the bejeezus out of it; package that into a little pre-built UI (think something along the lines of the NanoMods, but very simple); and there you go. Your very own PolySix patch. There would be a bit of tonal tweakability built in, but not anything too complex; the idea is, this is the patch, now get playing!
We're thinking also of a very keen price point for these. Pennies, not pounds. Not quite sure how many pennies, but you're not getting a whole synth here; you're getting one patch, so let's put it at a real pocket-change price point.
And then, perhaps, we could do bundles of patches with extra discounts on top. So you could either cherry-pick the specific sounds you want, or, perhaps, get the whole of the factory sounds of a Jupiter 6, at a saving over buying the patches individually.
So – let us know what you think. Like it? Hate it? Features you want to see in it? (Remember, we do want to keep this simple, so we'll be resisting feature-bloat.) Price point to aim for? Let us know, and we'll see what we can put together for ya…!
Best wishes,
The Professor (and Mongo)

EII Vol2 Strings and Brass demo
Some strings and brass to get you goin'! As we've said elsewhere, the Vol 2 selections of both Strings and Brass are smaller in number than those in Vol 1; but they're done to a higher technical quality (for example, you'll notice far fewer audible looping artefacts). They're wonderfully evocative, characterful patches, with both subtle low-key numbers and full-throated roaring blazes 😀
We'll try to get a few more demos up in the next week or so while we're rolling the Multis, and then – on to release, yay 🙂
Here we go – the first demo of our upcoming Emulator II Universe of Sounds Volume 2! The name's a bit of a mouthful but the 500+ sounds more than make up for it… this library is geared more towards synths, keys and percussion than Vol 1, with some standout strings and brass as well – you get less of a variety of these, but the individual sounds are very rich and impeccably handled. It's huge fun and very rewarding to play.
This demo showcases some of the Synth patches, which run the range from analogue pads through some typical 80s digital airy sounds to biting leads and thick basses… all with that signature Emulator warmth!
Short answer: a lot. Here are some sneak preview details:
Emulator II Universe of Sounds – Volume 2
We're almost done with the sampling on this, and it's just fantastic: interestingly, the technical quality of Vol 2 is a generation ahead of Vol 1 – we're noticing hardly any audible loop points, and the noise level has dropped down to the point where we're considering not doing a NR pass. The library has a slightly different content emphasis too; we're seeing many more keyboards and synths (some great pianos and EPs), amazing drums, and some really neat ethnic sounds throughout. There are fewer orchestral patches, but they've been recorded really well; so you tend to get three or four articulations of, say, a viola (legato, marcato, pizzicato, tremolo) done extremely well and thoroughly multisampled, rather than tons of variants on the viola theme. Our feeling is, strongly, that the two libraries complement each other very well – breadth of resource in Vol 1, slightly more focus on detail in Vol 2.
More stuff from our friend Doug at Q Up Arts
Our collaboration on the EII and EIII libraries has been huge fun and has brought some wonderful old technology back to life in exactly the way we most enjoy. We're keen to keep this partnership going, and in a very cool move, Doug has given us permission to distribute Q Up's own sampled instruments on our site. So we're going to be setting up a little Q Up Arts corner to present you with the best of Doug's output in his post-Emulator incarnation. (Keeping it separate seems to make sense both because it's someone else's work and because it's Kontakt 5 and above, whereas – as you know – all our in-house instruments are Kontakt 4.2.3 and above, to keep all you late adopters happy 🙂 )
Possibly the finest vintage synthesiser we've ever created…
You're going to need to hold on to your hats for this one. It's only half completed, but when it's done it's going to be truly cool. (We hope.) Think three main oscillators plus sub and noise, but with the huge advantage that the third oscillator is an "External Input" allowing you to route fully-formed patches from some classic hardware through the synth's architecture. All that plus a very clearly-defined sonic signature that comes from all the component bits being sampled from one manufacturer's machines only. Which manufacturer? We'll leave you guessing for now…
And more!
More drums, more synths, and more weirdness, pretty much guaranteed. Stay tuned 🙂
You may have gathered that the Summer Sale is now on! Head on over and grab yourself some well-earned savings.
Meanwhile, here's a little sneak peek preview of what's coming your way next. Not sure how long it'll take to get this out the door; we're currently wrangling a tangled mess of samples, some of which are ridiculously crusty, dusty and scratched. But it'll be cool when it hits. (The photo we used for our Summer Sale promo features one of the two turntables used in the creation of this thing, which should give you an idea of the territory we're in….)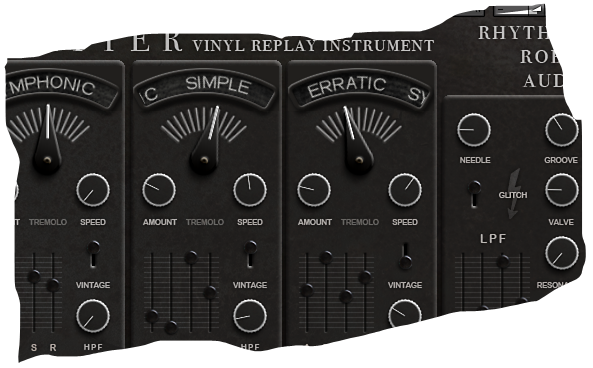 Happy Summer hols, everyone!
The Prof (and Mongo)