Some really exciting developments on the Emulator II front! We mentioned a while ago that we were intending to create a really comprehensive library of classic EII sounds; something that covered all those go-to patches of 80s music, plus orchestral patches, synths, drums, percussion… the works. Think Tears for Fears, Thomas Dolby, Pet Shop Boys, Eurythmics, Depeche Mode, Tangerine Dream, Vangelis…
The thing is, most of the stand-out tracks you remember used sounds that weren't part of the factory pack. The most revered add-on library for the EII was OMI's Universe Of Sounds, which came in two massive volumes covering hundreds of 5-inch floppy disks. These were the hit-making wonderpatches that defined an era, and without them, any attempt to recreate the EII's glory days is going to look – well, a little pale.
Well. We have some cool news.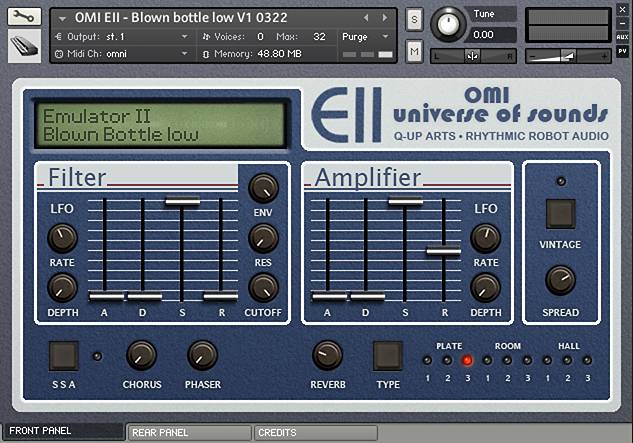 We've been in touch with the very nice Doug Morton, of Q-Up Arts. Doug sampled and programmed the OMI library in the 80s, and owns the rights to all the sounds; and we've struck a deal allowing us to co-develop the Kontakt version of the official Universe of Sounds collection. This means we have access to every single one of those amazing patches… and we're working through the night to convert them all into Kontakt form.
This means sampling every original patch, note by note, out of a reconditioned and warmly-humming Emulator II. Every single semitone is being sampled, to perfectly preserve the sound of the EII's convertors and interpolation. Original loop points are being conserved. The results are indistinguishable from the original, and sound exactly as wonderful as you'd hope: huge, powerful, rich sounds, with that magical EII aura that comes from 8-bit sampling and 12-bit companded convertors.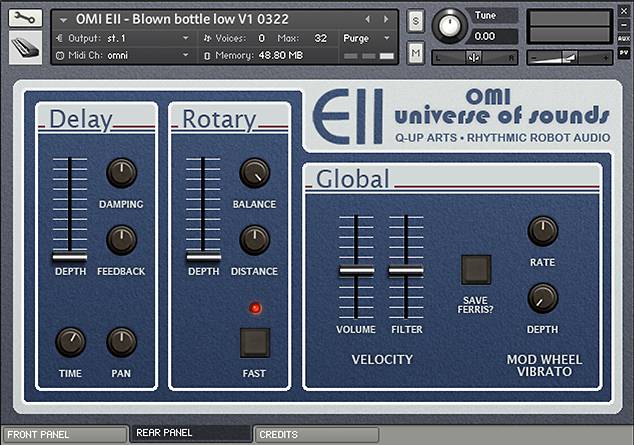 Clever UI scripting extends the EII's original capabilities, but also allows you to revert to 'vintage compliant' EII behaviour just by clicking the Vintage button on the front panel. This disables all the modern effects, stereophony and filters, and gives you the true original sound of the EII patch. Or you can push things into sound design territory if you want.
This project is very much a labour of love, entailing a huge amount of sampling. The end result will be a multi-gigabyte library with hundreds of original EII Universe of Sounds patches, plus still more Kontakt variants and multis. Expect a price tag that reflects this sonic treasure-trove: it'll be expensive by our standards (but still cheaper than some EII-inspired instruments out there that don't have access to these original sounds 😉 )
Let us know your thoughts. Timing's not quite clear yet – we're still working – but we hope this'll be out by the Summer.