Description
Precision control over cluster size, spread, timing and variation • Filter controls help seat the sounds in your mix • Specify exactly what components you want in each cluster using the Low, Mid and High sliders • Tiny memory footprint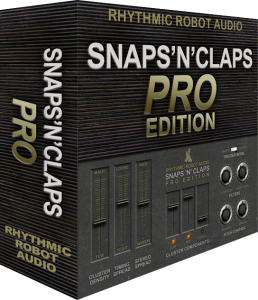 Since we started Rhythmic Robot, Snaps 'n' Claps has become one of our best-loved instruments. It seems that everyone needs some fingersnaps or handclaps every once in a while, and our original Hippie In A Tin™ is just perfect for dialling them up quickly and simply.
But what if you need more control – over the sound of your snaps 'n' claps, or their precise timing in your track? What if you want to tweak them more specifically to the groove you've got in your head? Snaps 'n' Claps PRO is the answer. We've taken the original hippies that fuelled Snaps 'n' Claps, and put them through a rigorous boot-camp workout to instil some discipline and work ethic into those flower-power slackers. Only the strongest have survived. The result is an entirely new instrument, created from the ground up with new samples and a far greater degree of user control.
Instead of predetermined clusters of sounds, Snaps 'n' Claps PRO lets you build those clusters from individual samples – which can be spread out in time to a greater or lesser extent to allow for tight or loose grooves, manipulated across the stereo field, filtered, and adjusted with random pitch variation, to create extremely flexible and customisable beats. These samples are entirely fresh, recorded in an anechoic chamber to allow you to add your own ambience or reverb within the mix. You can take control of how many virtual hippies are snapping their fingers or clapping their hands at any one time, and allow them to be laid-back or precisely focused in their attitude to the beat. You can select from low, medium and high claps and snaps, generated from different hand sizes and snapping / clapping techniques, mixing the proportions of these in your clusters to your taste for a very convincing group sound. The results can be further adjusted to sit perfectly in the mix, with low- and high-pass filters to take out unwanted frequency ranges or to add automated effects. By combining the Timing Spread, Filter and Variation controls, you can either dial in very natural, expressive, non-repeating parts; or create quite unnatural, robotic, almost synthesiser-style sounds suitable for more electronic styles of music. In short, you now have the depth and breadth of control to take your snaps 'n' claps to the next level.
Snaps 'n' Claps PRO retains the funky sound of its little brother but applies studio-grade levels of control to that sound. We like to think of it as the equivalent of having a room full of hippies at your disposal, and the electric cattle-prod necessary to get them doing exactly what you want. If you care about your groove, this is what you've been waiting for.
---
TIP!
A hint for using Snaps 'n' Claps PRO: Because the clusters of sounds recorded in Snaps 'n' Claps PRO inevitably trail the beat somewhat – they're spread out in time, and they have to spread after the beat at which you play the note – it can really help to tighten the feel of the groove if you tweak their timing after recording them. Once you've recorded (and, if you wish, quantised) your Snaps 'n' Claps PRO patterns, select them in your DAW and very slightly nudge them ahead of the beat. That way the mid-point of the cluster will be brought on to the beat and the overall groove will tighten up hugely.
---
(All our Kontakt instruments require a full copy of Native Instruments Kontakt v4.2.3 or higher (including all versions of Kontakt 5). Kontakt Player is not supported: instruments will load, but will time out after 15 minutes. See the FAQ for further information.)