Description
Everything you need to add some hippie street vibe to your tracks – Foot stomp, Cajon, portable wire Knee Snare, and two kinds of Tambourine • Multiple round-robins and velocity layers for organic variation • Hit things with hands or sticks and beaters • "Street" knob adds instant trashy grunge for a more sweat-stained feel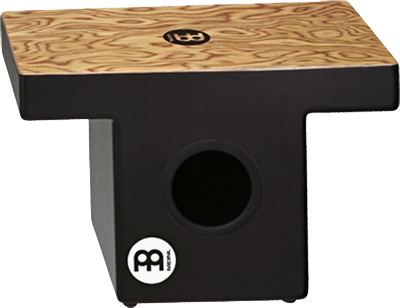 Busker adds a little bit of grubby street cred to your tracks, with an assortment of percussion elements that you'd expect to find gracing the acoustic strumming and vocal warbling of any self-respecting pavement musician.
It started off because we wanted tambourine sounds. We really like tambourines; they add a neat little background looseness to a track and combine well with more standard drum kit sounds (where would Brown Eyed Girl be without its tambourines?). But while the "big" drum libraries usually contain a tambourine or two, they always sound pretty sterile and over-clean to our ears. You reach for a tambourine because you want the organic, human feel of the thing as a loose counterpart to a more rigid drum pattern; and we weren't getting that from the more produced drum libraries. So we decided to roll our own.
Busker features both a round tambourine and a stick (with a higher, more delicate pitch), and you get hits with sticks or hands, rolls, and accent grace notes that can be dropped in preceding the main hit – this makes it sound like the player is shifting the tambourine prior to the strike, which is very usual and sounds entirely natural. The two instruments have three velocity layers and eight randomised round-robins, so the variation is nice and broad. Layering these into your track adds a real sense of human groove.
But then we thought, why stop there? The instrument already had a grungy hippie vibe to it, so we got hold of some typical blond-dreadlocks-and-tattoos instruments and stuck them in there too. The Cajon lends some woody percussion, with finger-strikes and stick hits on both the resonant body and the rim areas; plus hits on the Cajon's inbuilt snare wires. We also got hold of a "knee snare", which is a little box that velcroes onto your leg and which you can hit. It's got a more-piccolo-than-piccolo tonality and is great as a substitute for rim shots or even layered over a normal snare. And finally we got hold of a foot stomp, which is basically a wooden wedge you tap with your foot but which can be amped up. Thud thud thud. This is your kick drum equivalent. All of these were also sampled at three velocity layers with eight round-robins, and with both sticks and hands or fingers, so there's a lot of variation on offer.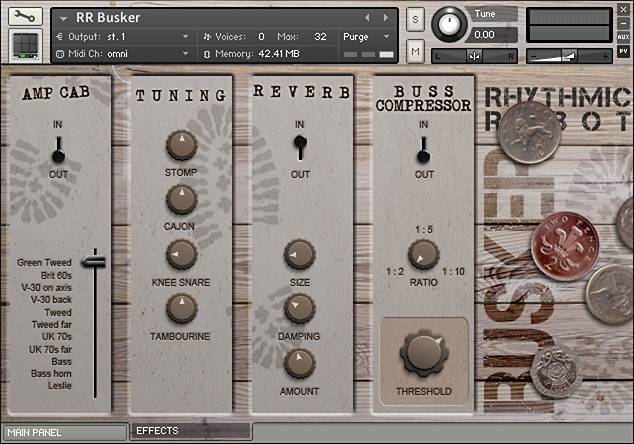 The controls allow you to tweak the EQ of the kit pieces using a lovely simple "tilt" EQ (left for less bass more treble; right for more bass less treble), individual compressors, pan pots and a neat little Street knob which dials in grit, trash and old coke-can ring pulls. Round the back we've got tuning controls to get your kit pieces sitting nicely in the mix, amp cab simulation so you can run your components through one of those little busker's combos, reverb to get a "tube station at midnight" thing going, and a buss compressor to glue it all together.
We've also thrown you a handful of loose change to get you started. We don't want you out there without a little seed-corn.
Busker is ideal for roughing up a "produced" drum kit; adding human percussion – particularly tambourine – to any track; giving an electronic piece a more acoustic element; or just accessing your inner traveller. It also combines very well indeed with Snaps'n'Claps for even more alternative-lifestyle fun. Take your music to the streets!
---
(All our Kontakt instruments require a full copy of Native Instruments Kontakt v4.2.3 or higher (including all versions of Kontakt 5). Kontakt Player is not supported: instruments will load, but will time out after 15 minutes. See the FAQ for further information.)